Invisible Orthodontics at Senova Dental Studios in Watford
The Invisalign System is the clinically accepted, nearly invisible way to straighten your teeth and improve your smile – without braces. It works through a series of clear and removable aligners that almost no-one will notce you are wearing. For the winning smile you've always wanted, the choice is clear - Invisalign.
Thursday 4th May from 4pm to 8pm. 
Limited places - strictly by appointment only
FREE clinical suitability and options assessment with one of our dentists
Light refreshments served throughout
Easy payment finance options provided if required
Entry into our competition to win an Oral B 6000 electric toothbrush when you proceed to a full consultation
Are you suitable for Invisalign? Join us for a free consultation and find out

A revolutionary new way to align your teeth.
Have you always wanted a perfectly straight smile, to close a gap between your teeth or to correct your goofy teeth that stick out, without the social stigma of wearing fixed metal braces?
This invisible orthodontics system uses a series of clear aligners that are custom-moulded to fit your teeth and gradually apply gentle pressure to your teeth to reposition them over time.
Why have orthodontics in the first place?
Did you know that straighter teeth are also healthier teeth? One of the most difficult areas to clean is in between your teeth and yet this is one of the most important areas to keep clean. This is where harmful bacteria can reside. The bacteria that live in your mouth excrete acid when they feed on the sugar in your diet, this acid attacks your teeth and is what can lead to tooth decay.
It is important that you remove this bacteria at least twice per day with your oral healthcare routine of brushing, flossing and rinsing. However, if your teeth are crooked or uneven it can be rather difficult to floss in between your teeth. If this happens then the bacteria can build up and could lead to more dental disease.
For this reason, straighter teeth can be healthy teeth as they are far easier to clean.

How does Invisalign® work?
The principal with any orthodontic system is that they put a small amount of pressure onto your teeth in the correct areas in order to move them. With traditional braces this is done by bonding brackets to your teeth and then putting tension on the brackets with wires. With Invisalign® the pressure is applied to your teeth by using a clear aligner.
With conventional braces you would return to your orthodontist to have the wires tightened. As you replace each aligner with the next set your teeth will move – little by little, week by week – until they have straightened to the final position prescribed by the dentist. Typically you will have a new aligner every two weeks and are normally provided with around six weeks worth of aligners in one go.
You will need to wear your clear aligners for at least 20 hours per day, removing them only to eat and clean. Because your aligners are almost invisible no one else will know you wear them so this is highly unlikely to be a problem.
Invisalign® vs Braces
The most obvious difference between Invisalign® and conventional braces is the Invisalign® is clear. It will be very difficult for other people to know that you are wearing an orthodontic appliance.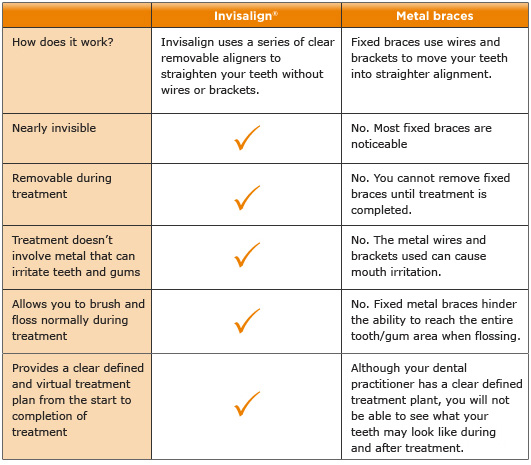 What is also extremely valuable and useful with Invisalign® is that you can see how you will look after treatment, before you begin. Invisalign®, which is available from our clinic here in Hertfordshire utilises a technique known as a Clincheck©. This amazing technique allows you to visualise how you will look after treatment. Because Invisalign® is a computer assisted design and your teeth are digitally represented on the computer screen, we can create a simulation of your entire orthodontic treatment in just a few seconds.
The stages involved in your treatment include:
Stage 1 – Your Free Cosmetic Consultation
During your first visit to our dental practice in Hertfordshire we will address all your dental needs and concerns and assess your suitability for treatment with Invisalign®. This initial consultation is free of charge. If you decide to go ahead with treatment we will take bite impressions of your teeth, and photographs which we will send directly to Invisalign® in the USA along with a set of precise instructions.
Stage 2: Your clear aligners are made by Invisalign®
Invisalign® technology uses advanced 3-D computer imaging to transform the bite impressions we send them into a custom-made series of clear and removable aligners. This is overseen and adjusted by specialist orthodontists at Invisalign®. There may be as many as 48 in the series or as few as 12, depending on your individual treatment plan.
Stage 3: You receive your new aligners
During your next visit to us in Watford, you will receive your first set aligners. Each set of aligners should be worn for 2 weeks. We will usually give you a few additional sets for you to wear before you return for your progress visit.
Stage 4: You wear your aligners
You'll wear each set of aligners day and night, removing them only to eat, drink, brush, and floss. You will change your aligners every two weeks as your teeth gradually move. Total treatment time averages 6-12 months, but will vary from case to case. We will require you to visit us every 6 weeks or so to ensure that your treatment is progressing as planned.
Stage 5: You've finished treatment!
Congratulations! When you're finished wearing each aligner in the series, your treatment will be complete and you will have the perfectly aligned beautiful smile you've always wanted.
When compared to traditional fixed metal braces, Invisalign® has several advantages:
Convenient – it does not disrupt your lifestyle, you can remove your aligners to eat the food you want and clean your teeth.
Discrete – since the aligners are virtually invisible most people won't even notice you're in treatment.
Comfortable – there are no metal wires or bands to irritate your mouth.
If you have crooked teeth, unwanted gaps or require teeth straightening treatment in Watford then contact us today for a FREE Invisalign consultation.
To find out more about Invisalign
®
at Senova Dental Studios call today on
01923 233600
Because we are a local dental practice situated with excellent transport links around Hertfordshire we are pleased to say that patients travel to see us from Bushey, Garston, Gerrards Cross, Rickmansworth and Chorleywood. There is plenty of parking locally to the practice plus excellent bus and rail links.