It is becoming more and more acceptable for adults to wear braces nowadays, and it seems that the celebrities are paving the way to making adult orthodontics more acceptable.
With modern invisible braces it's almost impossible to see which people are wearing orthodontics and which are not!
Take a look at this video of Faith Hill, and see if you can spot her braces as she speaks.
So why would adults wear braces? Well, one of the most common reasons is that children have orthodontics and once completed tend not to wear the retainers, over the years the teeth can then have a tendency to drift back to where they were before. Here's what Faith Hill says:
"They are about four months old. I'm getting used to them, I forgot to wear my retainer — kids, wear your retainer," she advised, explaining why she had to get them put on. "I had braces as a kid."
As the interviewer points out it really is possible to look great and wear braces at the same time!
What types of braces are available?
Broadly speaking orthodontic braces offered by your general dental practice can be broken down into three categories:
Rapid braces.
Tooth coloured braces.
Almost Invisible braces.
Let's look at each of these in turn.
Rapid braces.
One of the most common systems available today is the Inman Aligner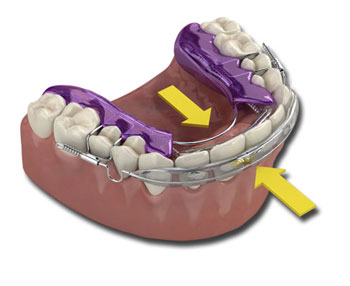 The Inman aligner is a revolutionary new removable device which is able to both push and pull the teeth at the same time. The way the springs are designed is unique to this system and allows the removable braces to straighten teeth in approximately 16 weeks.
Advantages of the Inman aligner
Because the Inman aligner is only working on your front teeth, which generally have smaller roots than the back teeth, it's possible to move them much faster than has been previously possible with traditional fixed braces. Because the device is removable it also allows you to remove it for eating and cleaning, making it comfortable and convenient.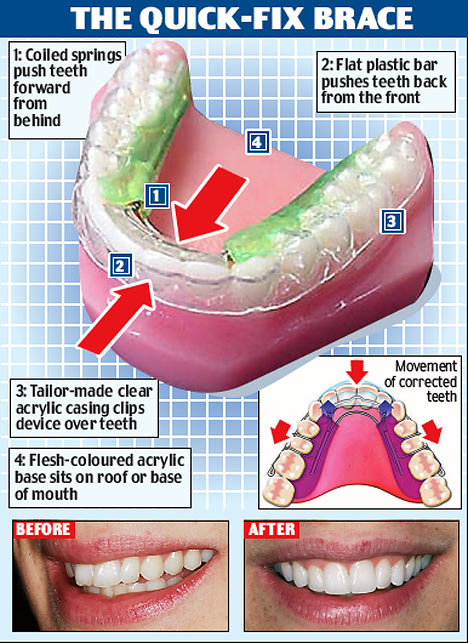 Inman Aligner Results


Tooth coloured braces
We offer a range of invisible braces at Senova – the ones Faith Hill are wearing looked to be similar to the tooth coloured ceramic braces that are Six Month Smiles. This is a revolutionary new orthodontic system which is fixed and can move the front teeth in around six months.
The system utilises a revolutionary new bracket, this bracket reduces the amount of friction against the wire enabling the braces to work faster than conventional fixed orthodontics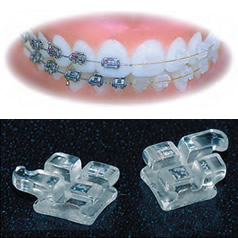 As you can see, the difference between tooth coloured braces and conventional metal, train track braces is quite extreme. This makes them the perfect option if you would like to have straighter teeth, in the fastest time with no one else knowing!
Once again, six month smiles moves teeth faster than some other conventional orthodontics because we are only straightening that anterior (front) teeth.
Six Month Smiles Results


Almost Invisible Clear Braces.
The final option is Invisalign, these are a clear aligner which are removable which people find are almost completely invisible when they are wearing them on a daily basis. The aligners work by putting a small amount of pressure on your teeth in the required direction in order to move them. Each aligner moves of teeth a small amount.
You will typically where each player aligner for approximately 2 weeks, and then replace it for a new one which will continue the movement of your teeth towards their final destination.
Invisalign uses modern high-tech computer assisted technology to design each of the aligners. Treatment typically takes between 18 months and 2 years, depending on the amount of movement required.
You will need to wear your aligners for 20 hours per day, removing them only to eat and clean your teeth.
If you are conscious about your smile and want to have straighter teeth with no one else knowing then Invisalign may be the option for you.
======================
Senova Dental Studios are a dental practice situated in Watford, Hertfordshire. They offer a range orthodontic tooth straightening solutions to the people of Chorleywood, Rickmansworth, Gerrards Cross & Bushey. If you would like to find out more about how you can begin to smile confidently too, then please do give them a call or download their voucher today for a refund of your initial assessment fee.

Latest posts by Dr Jay Padayachy
(see all)