What are your options if you want to replace missing teeth?
If you have missing teeth and want to replace them it's good to know your options in advance, this means that when you go to your dentist you have a good idea of how you can proceed and can have an informed discussion about the way forwards.
It's important to replace missing teeth for a variety of reasons which we have spoken about in previous blog posts, in this post we don't talk exclusively about your options, so let's list them:
Dentures.
We'll now take some time to look at each of these in turn.
Replacing missing teeth with dentures.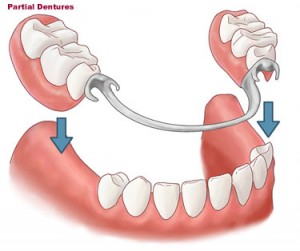 Dentures can be an excellent way to restore teeth which you have lost. Dentures can either be provided to replace a few teeth (known as a partial denture) or to replace all of your teeth (known as a full denture).
Partial dentures are often secured in place using clasps, these are small clips which attached to your adjacent teeth.
One of the biggest problems with dentures is that they are removable. Whilst this can be good for cleaning it means they may have a tendency to move whilst you eat. This can wear down adjacent teeth and may put unnecessary pressure onto the surrounding gum area, when this happens the gum can recede for around the adjacent teeth.
Dental bridges.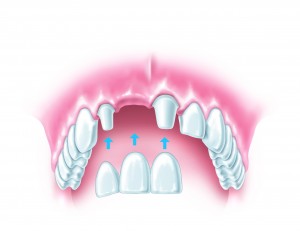 Dental bridges are often preferred as they are a fixed alternative. They are permanently secured into your mouth and can be used to replace one single missing teeth or to replace multiple missing teeth. To have a dental bridge you need to have existing teeth (or have dental implants placed). These form the support mechanism to hold the missing tooth replacement in the correct place.
One of the biggest disadvantages of a dental bridge is that there is often a requirement to reduce the teeth either side of the gap to a stump. This could potentially mean removing otherwise healthy tooth tissue which is something many dentists would rather not do. Most dental practices prefer to work in a minimally invasive way and retain as much to structure as possible.
Dental bridges have been used for many years and have an excellent reputation, especially modern bridges which have no metal inside. So that the bridge is extremely strong modern techniques (amongst others) involve the use of zirconium oxide as a framework. This is a high-strength, naturally occurring material which is inert and is used in hip replacements.
Dental implants to replace missing teeth.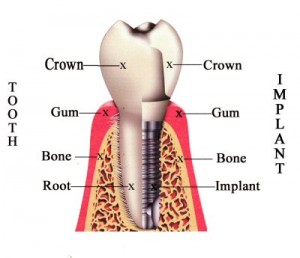 Often a dental implant is the best option to replace your missing tooth. Dental implants support the underlying bone structure around the missing tooth. This can help to prevent additional bone loss which occurs after a tooth has been extracted. Dental implants also do not require reduction of the adjacent teeth, meaning they can be a more conservative option.
The longevity of dental implants is also excellent, they can last many years and be an excellent investment in your smile.
A dental implant is essentially a replacement of your natural tooth root. However, it is always advisable to do everything you can to keep your natural teeth and not rely on artificial replacements later on in life!
Dental implants don't give your body the receptive feedback that a natural tooth does, this means it can be harder to gauge how hard you are biting so you need to be careful if you have dental implants.
Whilst dental implants can be the most costly alternative in the short-term, their ability to outlast dental bridge means they can be the best value option as a long-term treatment. When this is coupled with things like 0% finance and payment plans it makes dental implants are very cost-effective alternative.
Summary
There are many options to replace missing teeth and each of them will be customised for your own clinical situation. We don't recommend deciding in advance exactly which treatment you want, indeed, sometimes a combination of treatments is right for you. For example, you may have many missing teeth and decide that you want dental implants as a fixed option, however, sometimes we need to rebuild the lost gum work which accompanies lost teeth. This is to rebuild the profile of your face and can often only be done with a denture. In this case we might recommend a combination of a denture fixed in with dental implants.
The key is to have an open mind when you go to visit your dentist, have a discussion with them to see what options are available to you, take home a fully costed treatment plan with all of your options and then make a decision.
Places to find out more
We thought it might be useful to put some links to other resources where you can go to find out more about dental implants.
Since its formation in 1987, the ADI has been dedicated to providing on-going postgraduate education to the dental profession in order to extend awareness of dental implant treatment as an option for improving patient oral health.
Visit their website here >> www.adi.org.uk/public/index.htm
The British Academy of Cosmetic Dentistry aims to promote clinical excellence in cosmetic dentistry, that is carried out in an ethical, minimally invasive way.
Visit their website here >> www.bacd.com/about-the-bacd
===============
Senova Dental Studios is a dental practice located in Watford, Hertfordshire. They offer a range of cosmetic, restorative and preventative dental treatments to the local people who travel to see them from Garston, Bushey, North Watford, Gerrards Cross and further afield. They offer a refund of an initial consultation with £85, simply complete the form to the right of this page.

GDC REGISTRATION NO. 64358

A graduate of the Newcastle-upon-Tyne Dental school, Dr Padayachy has been a dentist at the award winning Senova Dental Studios in Watford since 1998 focusing on comprehensive restorative and cosmetic dentistry.

Jay has previously been the president of The London Dental Fellowship.

He has been a member of the British Academy of Cosmetic Dentistry since its inception and serves on the Credentialing committee. Jay has lectured widely on all aspects of cosmetic dentistry, dental photography and comprehensive care.

Latest posts by Dr Jay Padayachy (see all)