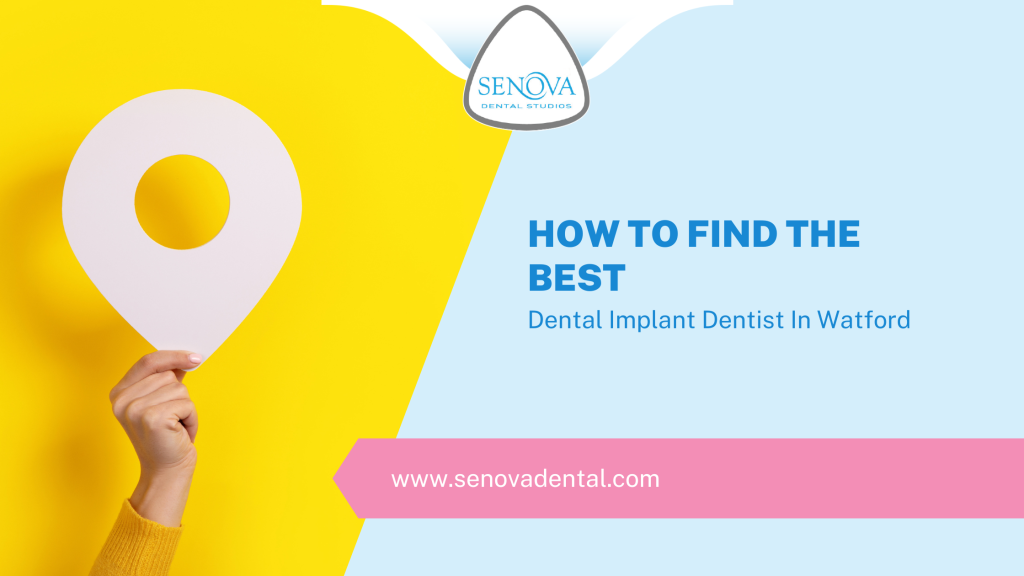 Missing teeth can be a significant problem; not only does it become difficult to eat and speak normally, but one's smile and personality are also affected. Luckily, modern dentistry offers various aesthetically pleasing and long-lasting for replacing missing teeth. One such option is dental implants. If you are looking for a reliable and renowned dental implant specialist in Watford, this article is for you. Here, we share practice tips to help you get the most out of your dental implant treatment. So, continue reading to learn more about dental implants. 
What Are The Best Dental Implants?
Dental implants have become the most sought-after tooth replacement option worldwide owing to their aesthetics, long service life, and convenience. According to the British Association of Dental Implantology, an implant is a screw-shaped fixture made of titanium or zirconia, which serves as a replacement root of an artificial tooth. Regardless of the implant material, the best implant is one that effectively replaces a missing tooth, improves facial aesthetics, and restores one's ability to eat and speak normally. 
How Do You Find Out If Dental Implants Are Right For You?
Dental implants are a suitable option for anyone who has lost one or more teeth. However, an essential requirement for getting implants is that one must be free of any underlying chronic medical or dental issues. Furthermore, sufficient jawbone must be available to support and anchor the implant. In the absence of sufficient jawbone tissue, a bone grafting procedure is needed before one can get implants. Similarly, patients with a history of bisphosphonate use are unsuitable candidates for implants. Your dentist can inform you about your eligibility for implants after a thorough clinical examination. 
Are All-On-4 Dental Implants The Best Option?
All All-on-4 implant prosthesis is used when no teeth remain in a jaw. Compared to its alternative – complete dentures – an all-on-4 implant-supported complete fixed bridge offers several advantages. Firstly, an all-on-4 effectively restores one chewing and speech ability, which is not entirely possible with dentures. Similarly, an all-on-4 offers significantly better, natural aesthetics than complete dentures. Finally, an all-on-4 appliance is much longer lasting than dentures. So yes, an all-on-4 prosthesis is the best option for complete tooth replacement. 
How Long Does It Take For Dental Implants?
The process of getting dental implants is typically carried out in multiple stages. First, your dentist will perform a clinical examination to assess your eligibility and ascertain the need for any additional procedures before implant therapy is initiated. This allows them to prepare a detailed and customised treatment plan. 
At the next appointment, the implant surgical procedure is performed. First, your dentist will administer local anaesthesia to make you pain-free. Next, they will drill holes at pre-determined sites where implant insertion is planned and carefully screw the implants using controlled forces. After implant insertion, they will place healing caps over them to ensure optimal healing. Finally, your dentist will place temporary prostheses over the implants to restore the aesthetics. However, these teeth cannot be used for eating.
The implant surgical site healing takes around 4-6 months. Once the site is completely healed, your dentist will remove the temporary prosthesis and replace it with a pre-fabricated, permanent one. That's it. Now you can use your implants for eating normally!
Overall, the entire implant process takes around 4-6 months. However, in some cases, dentists plan same-day implant insertion and loading.
How Do I Choose The Right Dentist For Dental Implants?
Choosing an experienced and qualified dentist is essential for ensuring an optimal outcome of your implant treatment. Why? Because implant therapy requires exceptional surgical skills and intricate treatment planning. So, if you're looking for an implant dentist in your area, look for one with
sufficient experience
a good reputation and patient rating, and
preferably has undergone additional training or certification in implant dentistry. 
How To Find Best Dental Implants In The Uk?
The best dental implants are manufactured under stringent controls and using high-quality materials. All renowned and experienced dentists in the UK use high-quality dental implants, which are best for long-term tooth replacement. So, if you go to a well-known and reputable dental implant practice, you get the best implants for your tooth replacement.
How Do I Choose A Dental Implant Clinic?
If you search the internet, you will find numerous implant practices in your area. But, how do you find the best one among them? It's simple! Make a list of all the dental implant practices in your area, and shortlist those with specialist implantologists. Next, look at the patient reviews of these shortlisted practices and select 3-4 ones with the best overall ratings. Finally, visit each of these practices physically and choose the one you feel the most comfortable with.  
Can I Get A Dental Implant Years After Extraction?
Ideally, a tooth should be replaced immediately after its extraction. This is because the bone around a missing tooth starts to degrade rapidly. Therefore, when implant replacement is considered years after tooth loss, sufficient jawbone will not be available to support it. However, this doesn't mean implant therapy is impossible in such cases. Instead, your dentist will perform bone grafting to replenish healthy bone tissue and place the implant. Hence, getting your teeth replaced immediately after they are extracted is advisable.
How Can I Find Affordable Dental Implants?
Finding a well-reputed and affordable dental practice in Watford can be challenging, but it is not impossible. At Senova Dental, we realise that implant treatment can be expensive for some patients. That is why, we offer high-quality and affordable dental implant treatment to our esteemed patients. So, are you ready to transform your smile with dental implants? Book a free virtual appointment with us today to discuss your options! We look forward to serving you.

Latest posts by Dr Jay Padayachy
(see all)