Understanding a private dentist price list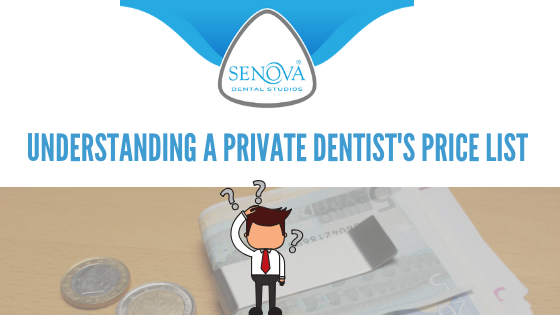 Any good dental practice will understand that fees and prices are a major factor in the decision-making process by which dentist to visit. That's why we have decided to tackle this issue head on, we hope that by the end of this blog post you will have more information about private dentist prices in the UK, why those fees and prices are as they are and how to make the best choice.
Whenever you have a treatment undertaken you should always have a fully itemised treatment plan in advance, the question we recommend you ask your dentist is:
What is included in treatment?
Things which may get left out of your budget in a treatment plan could include:
X-rays. Always ask if x-rays are included in any treatment, particularly in a dental health assessment. Some practices offer an initial dental health consultation for new patients which do include x-rays, others don't, so it's important to find out beforehand.
Follow-up appointments. After complex treatments you may need a series of follow up appointments, think about treatments such as dental implants or orthodontics. Does the fee includes all of these appointments?
Retainers. When you have orthodontics you may need retainers after the treatment to ensure your teeth stay in a new position, some practices include a couple of retainers in the treatment fee whilst others include retainers for life. It's important you find this information out before going ahead with treatment.
Sedation. If you are particularly anxious or nervous and think you may require sedation then find out if this is included. Almost certainly inhalation sedation or intravenous sedation will not be included but it's worth asking about oral sedation.
A good private dentist price list will include everything and not have any hidden extras.
What are the best options for paying for dental fees?
Most private dentists in the UK will offer a range of different ways to pay for the treatment. This could include:
Paying for the entire treatment in one go and enjoying a small discount, often around 10%.
Staged payment for each treatment, particularly useful for expensive treatments over a long period of time.
Finance. Many practices offer 0% finance over one year and then interest-bearing finance thereafter.
Membership plans. Practices offer membership in exchange for a monthly fee. The membership comes with certain benefits including discounted appointments and usually includes routine hygiene and dental appointments.
Bupa Dental plans are also covered by some practices.
Why choose a Private Dentist instead of an NHS dentist?
Many people wonder what is the difference between NHS and private? NHS treatments typically cover the most basic level of care. An NHS dentist is actually still a Private dentist but has a contract to deliver a certain number of Units of Dental Activity (UDA) to the local primary care trust, in the bidding process each bidder for these UDA's will place their bid, the trust will then decide which provider wins the contract.
The contract will include the total number of UDA's that must be delivered within the contract period. Each type of treatment has a different number of activities attributed to it.
This is potentially an unstable system, if, towards the end of the contract period the dentist has not achieved the number of UDAs required then there may clawback where the local trust claws back any money paid to the dentist, on the face of it this seems fair but sometimes the target number of UDAs set by the trust is unachievably high, this can leave dentists in a very difficult situation, short of cash and then possibly unable to invest. The flipside to this is if patients come in which needed lots of treatment, in this scenario the dentist may use up their UDA allocation, no matter what treatments patients need the dentist will not be paid for them. This may result in dentists closing their books to NHS patients when the required number of UDAs have been delivered.
Private dentistry avoids all of this. You get exactly what you need, when you need it!
Because the amount that an NHS dentist often get paid for each unit of activity they have a tendency to want to keep treatment very basic and quick, this means treatments may not be as complex or personalised as private dental treatments. High-quality private treatments overcome this problem by giving the dentist the freedom to operate at whichever level they wish.
Where can I get affordable dental treatment?
Affordable treatment is, without doubt a touchy subject. It is also rather subjective. After all, what is affordable? Many people would be happy to spend £5000 on a new car or £2000 on holiday but would not want to spend the same amount of money on their teeth.
Your teeth are used 24 hours a day, 365 days a year, they allow you to eat, smile and chew with confidence. Having great teeth is an investment in yourself!
Having said that, there are ways to make dentistry more affordable.
The advent of private membership plans has made dentistry much more affordable. These plans can bring complex treatments like dental implants or root canal work down by about 5%. Paying for treatments booked in advance can also pay dividends, dental practices can offer up to 10% discount for treatments booked in this fashion. Many practices also offer finance, this is often 0% if the entire treatment is paid off within a year.
The key to finding affordable dental treatments is to speak to your dentist, don't be afraid to let them know exactly how you feel, what your concerns are… This allows them to come up with the best price list and dental charges for you.

Latest posts by Dr Jay Padayachy
(see all)