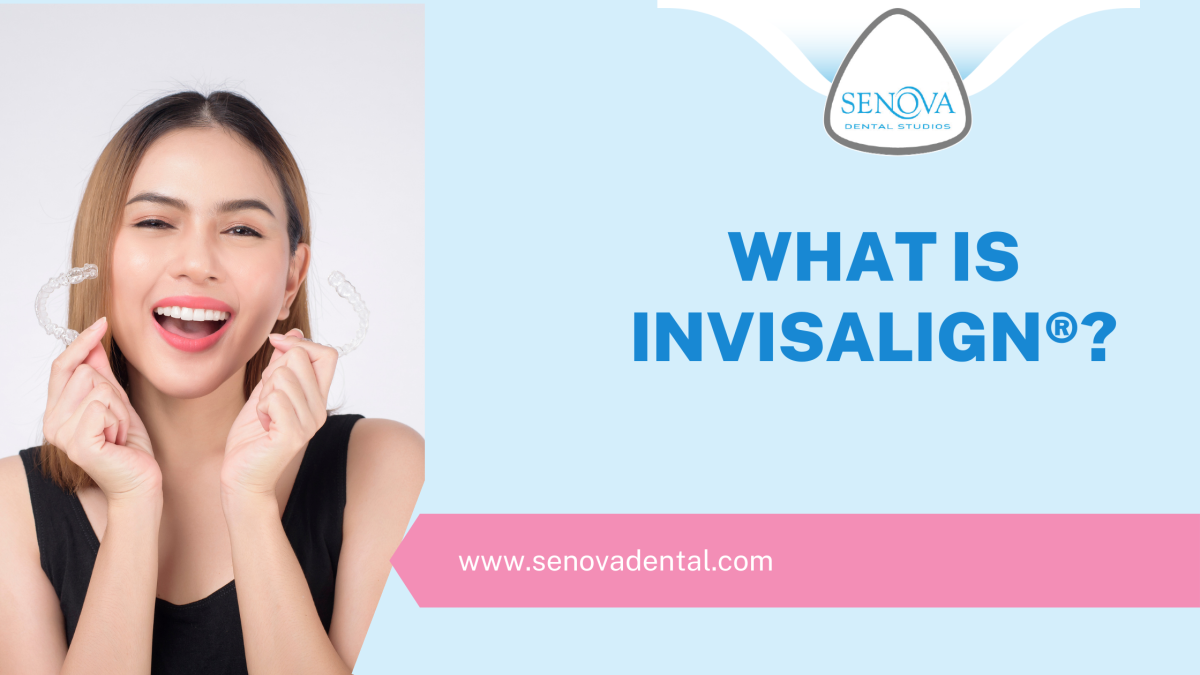 If you are thinking of getting your teeth straightened, you might frequently come across the term "Invisalign aligners" in your online research. Indeed, Invisalign has become the most preferred orthodontic teeth straightening option globally. According to the manufacturers of Invisalign, over 15 million Britishers have benefitted from treatment to enjoy a healthy and charming smile. So, gone are the days when fixed braces were the only teeth straightening option available to dentists.
If you are considering Invisalign orthodontic treatment but have questions about this treatment option before you decide, you have come to the right place. This blog provides a comprehensive overview of Invisalign aligners, how they work, and, more importantly, their advantages over traditional braces. So, read on to learn more.
What Is Invisalign®?
According to the British Orthodontic Society, Invisalign, also known as clear aligners, is an orthodontic system based on removable aligners. These aligners are designed to be worn over crooked teeth, and they exert controlled and mild pressure on them to move them into optimal alignment.
A feature distinguishing them from metal braces is that they are made of a transparent and flexible material. Therefore, unlike the conspicuous metal braces, Invisalign aligners are virtually invisible and comfortable. This is why many patients prefer Invisalign over braces for fixing teeth crowding and spacing.
How Does Invisalign® Work?
The Invisalign system comprises multiple numbered sets of aligners. These aligners will be designed by your dentist so that each aligner continues to move your teeth in the desired direction. When you wear your first aligner set, they will gradually move your teeth into alignment. After wearing your aligners for 22 hours each for 14 days, you should switch to the next set of aligners. The new set will continue pressurising your teeth to move them into optimal occlusion.
This way, once you have finished wearing all your aligner trays, your teeth will be optimally aligned, and you will be a proud owner of a dazzling smile!
What Are The Benefits Of Invisalign®?
If you cannot decide whether you are suitable for Invisalign therapy, here are some benefits of this treatment that will help you decide.
Inconspicuousness – Invisalign aligners are virtually invisible when worn. So, you can wear them to any gathering or official meeting without worrying about them being visible or affecting your smile.
Convenience – you can take off your Invisalign aligners before eating or brushing. So, you can eat all your favourite foods with these aligners and maintain optimal oral hygiene.
Comfort – Invisalign aligners are made of a flexible material, which, unlike traditional metal or lingual braces, does not cause discomfort or injure the oral soft tissues.
How Long Does Invisalign® Treatment Take?
Treatment time with Invisalign aligner mainly depends on the case complexity. For example, a complex orthodontic issue may take up to 24 months, while a moderate to moderate problem may be completed in 8 – 12 months.
Besides, treatment time also depends on patient compliance, age, and the dentist's skill. Treatment time may also be prolonged if one needs additional procedures before wearing the aligners, such as teeth fillings, professional cleanings, or root canal treatment. Your dentist will give you an estimate of your treatment time after a detailed clinical and radiographic examination.
How Long Do You Have To Wear Invisalign® Aligners For?
As mentioned before, the duration for which one needs to wear their aligners depends on the severity of the underlying issue. If someone has a mild issue such as minor crowding or spacing, they may have to wear the aligners for 6 – 8 months. On the other hand, someone with a complicated orthodontic issue involving the bite may have to wear the aligners for up to 24 months.
Another important factor is patient compliance. The more you adhere to your dentist's instructions regarding wearing your aligners, the less your treatment will be. Time.
How Much Does Invisalign® Cost?
Like treatment, the cost of Invisalign therapy also depends on many factors. For example, the cost of your treatment will be determined based on the severity of the underlying issue (requiring a longer treatment time), patient compliance and age, and, more importantly, the orthodontist's skill and location. Naturally, a specialist orthodontist will charge more than a general dentist. Similarly, a dentist in a metropolitan area will charge more than one in the suburbs.
Another factor determining the cost of aligners is the need for additional procedures. For example, if your dentist decides you need a few fillings or a root canal procedure before your treatment, your treatment cost will increase. Typically, the cost of aligners in the UK is between £2,000 and £5,500.
Invisalign® Near Me
Now that you decided to get Invisalign aligners, the question would be, "Where to find the best Invisalign specialist dentist near me?". The answer is straightforward; you just need to take care of a few things. First, make a list of all the Invisalign dentists near you. Next, shortlist 3 – 5 of them based on their vicinity to your home or office and the facilities they offer. You should visit each practice and meet with the dentist and their team. Finally, you should go with a practice that you and your family feel the most comfortable with.
If you are looking for the best orthodontist in Watford, consider Senova Dental Studios. The practice has a team of highly qualified and experienced dentists and state-of-the-art equipment to ensure that you receive the best treatment in town. So, request a free video consultation with us today and begin your journey towards your dream smile.

Latest posts by Dr Jay Padayachy
(see all)