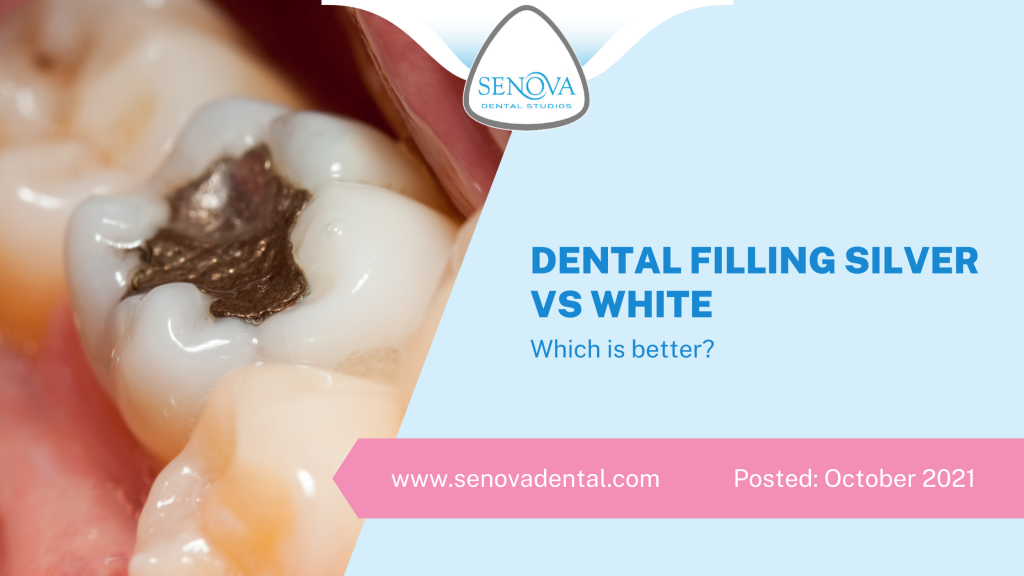 When it comes to restoring decayed teeth, there are two main options available; silver and white fillings. Naturally, you would prefer getting tooth-coloured fillings for aesthetic reasons. But have you ever thought about what are silver fillings used for and whether they are better than white fillings? If you are looking for an answer to this question, this article is for you. Continue reading to found out everything you need to know about tooth-coloured and silver filings.
Which One Lasts Longer, Silver Fillings Or White Fillings?
Conventionally, silver fillings were considered more durable because they were made from the amalgamation of liquid mercury and metal powder alloys. In fact, silver fillings can last for many years, even decades. But, thanks to modern dentistry, tooth-coloured have become equally durable. That is why more and more people are choosing white fillings for restoring their teeth.
Are White Fillings Better Than Metal?
White fillings offer several advantages over metal fillings. First, they are made from a tooth-coloured material. As a result, they blend in perfectly with the neighbouring natural tooth structure and become virtually indistinguishable. Besides, white fillings do not contain harmful ingredients, unlike silver fillings. Therefore, they are much safer and non-hazardous than silver fillings.
Is It Normal For White Composite Tooth Fillings To Turn Black?
It is not normal to have black staining around white filings. While it may be possible for the white composite fillings to turn yellow or get stained over time, black staining is not usual. It may indicate the initiation and progression of secondary tooth decay in the restored tooth. Regardless, you should consult your dentist without delay in such cases.
What Does It Mean If A Dental Filling Turns Black?
Both silver and white fillings can stain or turn black due to many reasons:
Chemical changes within the filling – Suggests that the restoration is failing in a silver filling
Tooth decay
Coffee, tea or tobacco stains
Nevertheless, if you find stains around dental fillings, you should consult your dentist as it may indicate an underlying issue with the filling or the tooth.
Are White Fillings Better Suited To Large Cavities?
A few years ago, dentists preferred silver fillings to restore large cavities. Alternatively, they would reinforce teeth restored with white fillings by using porcelain crowns. However, today white fillings are as strong and durable as amalgam fillings. Therefore, white fillings can also be used for restoring large cavities nowadays.
Do Fillings Cause Tooth Decay Underneath The Fillings?
Dental fillings placed by experienced dentists tend to last longer. This is because an experienced dentist will ensure that no space exists between the tooth and the filling, which allows the bacteria to creep in cause decay. In case a filling has gaps or spaces, the chances of secondary tooth decay are exponentially higher. That is why it is always recommended to visit a qualified and experienced dentist for your dental treatment.
What Makes Dental Amalgams Vary In Color?
The final colour and shade of an amalgam filling mainly depend on the liquid mercury and alloy powder ratio. Besides, it also depends on how efficiently the mixing of the powder has been performed – whether it is done by hand or by using a mechanical mixer. Regardless, silver fillings will always have a distinct metallic appearance that limits their clinical acceptability.
What Are The Advantage Of Composite Fillings?
Composite fillings, also called resin fillings, offer several advantages over metal fillings. According to the American Dental Association, white fillings are a durable option for restoring mid-sized cavities. Besides, these restorative materials have the potential to match the colour and shade of natural teeth. As a result, they become virtually indistinguishable and significantly enhance one's smile and facial esthetics. Another significant advantage of composite fillings is that they don't require excessive removal of the healthy tooth structure for their placement, unlike silver fillings. Instead, dentists simply remove the decayed tooth structure and place composite fillings over the remaining tissue. Hence, composites are much more tooth conservative than silver fillings.
Can I Replace Silver Fillings With White?
Yes, silver fillings can be replaced with composite filings. However, your dentist is the best person to advise whether you should consider getting them replaced. If you are concerned that your silver fillings are affecting your smile and facial esthetics, it is a good idea to ask your dentist to replace them with the more aesthetically pleasing white fillings.
How Long Do White Fillings Last?
The clinical service life of dental fillings depends on various factors, such as the quality of the restoration, types of filings, oral hygiene status, and dietary routine. While silver amalgams are expected to last for many decades, composite white fillings tend to last around 10 years, or even more if they are looked after properly. Besides, regular dental checkups also go a long way in ensure longer clinical life of dental filings. This is because, during routine checkups, dentists can identify underlying problems with fillings and restore them before they cause significant damage.
Do you have one or more teeth that need a filing? If you live in Hertfordshire, you can get your teeth restored with high-quality, durable, and aesthetically pleasing dental fillings at Senova Dental Studios. We take pride in having the best dental team in town and state-of-the-art dental diagnostic and therapeutic equipment. So, book a free video consultation with us today to discuss your treatment options. A beautiful and lasting smile awaits you at Senova Dental.

Latest posts by Dr Jay Padayachy
(see all)