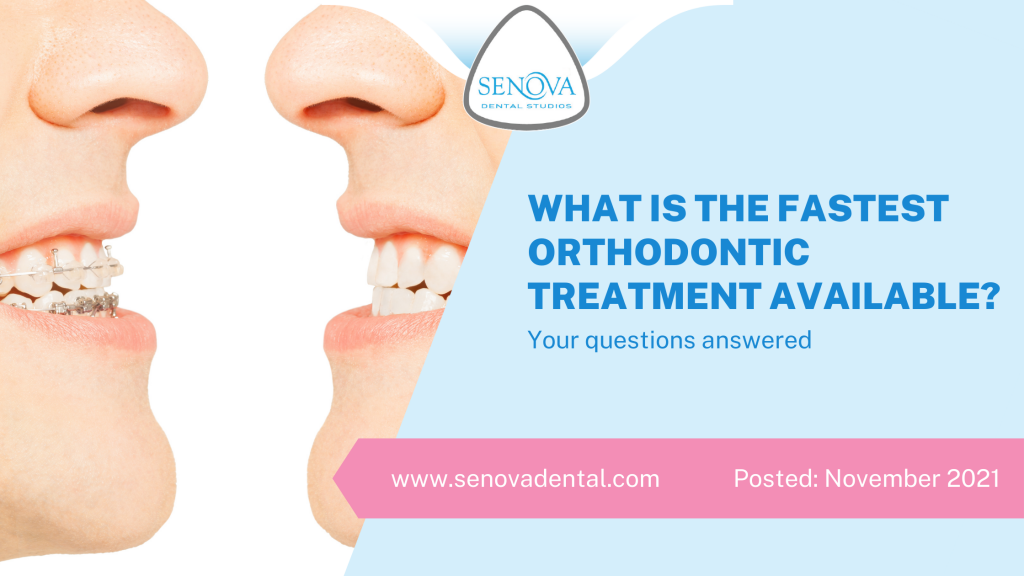 If you're planning to get your teeth straightened with orthodontic treatment, you would be considering various factors; the cost, comfort, dietary limitations, and most importantly, the duration of treatment. So, naturally, you would prefer an orthodontic treatment system that is cost-effective, convenient and realigns your teeth in the shortest amount of time possible. If you're confused about choosing the fastest orthodontic treatment option available, this article is for you. So, continue reading and find which orthodontic system best suits your needs.
How Can I Get Straighter Teeth?
There are two main ways to get straight teeth; either you undergo orthodontic treatment or fix the misalignment with cosmetic dental treatment. Naturally, the ideal way to fix misalignment is to fix the underlying issue – which is only possible through orthodontic treatment. If we talk about orthodontic treatment, various options are available such as:
After a thorough clinical examination and treatment planning, your orthodontist will recommend a treatment option that best suits your dental needs.
How Long Will It Take For Braces To Straighten My Teeth?
Each orthodontic treatment has its own speed of tooth alignment. Therefore, it basically depends on the severity of the underlying issue. Furthermore, if you're wearing removable Invisalign aligners, the treatment duration would also depend on how precisely you follow your orthodontist's instructions regarding their use. Generally, your orthodontists may fix mild to moderate orthodontic problems with braces within 6-8 months. On the other hand, more complicated issues can take anywhere between 18- 24 months.
What Are The Teeth Straightening Options For Adults?
According to the American Association of Orthodontists, age is no more a limitation to seeking orthodontic treatment. Today, adult orthodontic patients – whether they are sixteen or sixty – can benefit from a wide range of orthodontic treatment options, such as traditional metal braces, lingual braces, ceramic braces, and Invisalign aligners. Your orthodontist will prepare a customized treatment plan for you and recommend a suitable option that provides the most favourable outcome.
Do Metal Braces Work Faster Than Invisalign?
Different orthodontic systems have different ranges of treatment. However, the most critical factor that determines the duration of your treatment is the amount of force the orthodontist uses for moving the teeth. While Braces allow dentists to perform complex tooth movements and generate pressure to move teeth faster, applying excessive orthodontic force can damage the teeth. Therefore, although braces allow dentists to move teeth faster than the Invisalign aligners, such practice is not recommended. In fact, your dentist will ensure that gradual and controlled forces are applied to the teeth so that they realign without complications.
At What Speed Are My Teeth Moving If I Have Braces?
The speed of tooth movement with braces depends on the pressure generated by the orthodontic wires. At each appointment, your orthodontist will adjust the tension in the orthodontic wires – by using different types and thicknesses of the wires – to ensure that your teeth continue to move in the right direction. Initially, dentists use orthodontic wires that generate mild forces so that your teeth can adjust to the new environment. Once the teeth have become mobile, they will use orthodontic wires that increase the speed of tooth movement. – but within the optimal limits
How Do I Make My Braces Treatment Go By 2 Times Faster?
One way to increase the speed of tooth movement is to increase the tension in the orthodontic wires. However, this technique is not always recommended as it may cause severe complications like periodontal issues, root resorption, and even tooth loss. Another safer way to increase tooth movement speed is strictly following your orthodontist's advice and ensuring optimal oral hygiene maintenance. Both these measures can significantly improve the speed of your treatment.
How To Push My Teeth Backward Without Any Cosmetic Treatment?
Braces or Invisalign aligners are an excellent option for realigning teeth that lie excessively forward or angulated. In fact, cosmetic treatment will only remove the cosmetic defect and not treat the underlying issue. On the other hand, orthodontic treatment identified and fixes the underlying problems, thereby restoring your smile and dental function.
Which Is The Best Procedure To Whiten And Straighten Teeth?
Teeth whitening and straightening are two different procedures. For getting pearly white teeth, professional teeth whitening by a qualified and experienced cosmetic dentist is the safest, quickest, and most effective option. On the other hand, if you wish to get your teeth straightened, your dentist may recommend metal braces or Invisalign aligners, depending on your age and the severity of your problem.
What Are The Health Benefits Of Teeth Straightening?
People who have crooked or misaligned teeth often have difficulty chewing food and speaking typically. Besides, it is also challenging to clean overcrowded teeth, which increases the risk of developing gum inflammation and periodontal issues. Getting your teeth straightened with orthodontic treatment will help improve your oral and physical health by allowing you to chew and digest food properly and will enable you to maintain optimal oral hygiene. In short, you can enjoy better oral and physical health and quality of life after getting your teeth straightened.
How Do Celebrities Get Their Teeth Fixed So Quickly?
If you're wondering how celebrities get their crooked teeth fixed so quickly, here is the answer: they have good cosmetic dentists. While orthodontic treatment may take many months to resolve the issue, cosmetic treatment with porcelain veneers, lumineers, and crowns can give you a picture-perfect Hollywood smile in just one day.
Can We Remove Braces From Teeth Within 3-4 Months?
Even for fixing mild orthodontic problems, dental braces require at least 6-8 months. Therefore, it is not advisable to get your braces removed after 4-6 months of treatment. Are you ready to enjoy the smile of your dreams? We offer high-quality orthodontic treatment services to our esteemed patients. Our qualified team members are experienced in correcting even the most complicated orthodontic issues. So, book a free video consultation with us today to know more.

Latest posts by Dr Jay Padayachy
(see all)