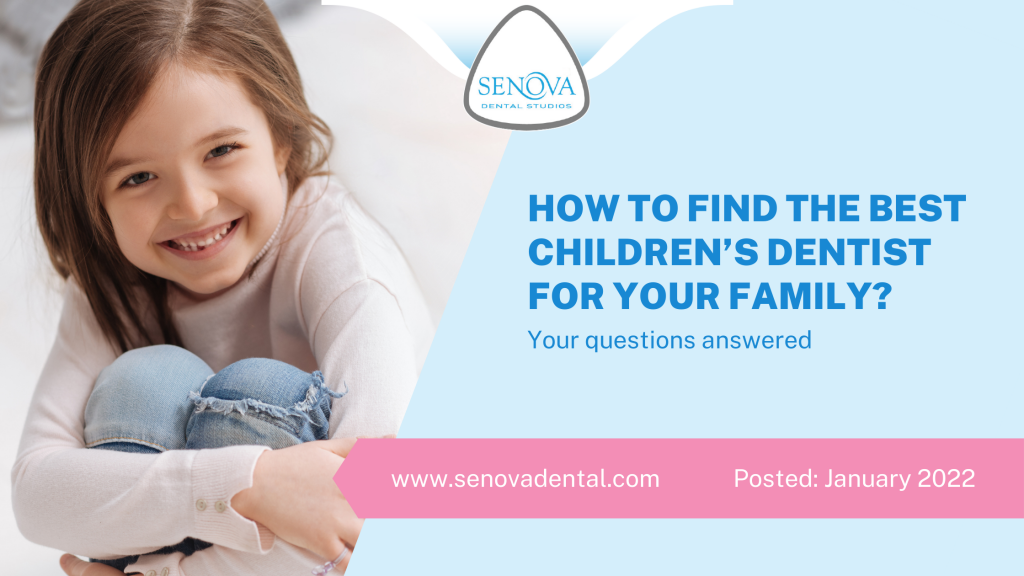 Whether you have moved to a new locality or you're simply looking for a new family dental practice for your kids, finding the right paediatric dentist can be challenging. One must consider many factors, such as the dentist's qualification, patient reviews, services offered, and treatment charges. But no need to worry; this article provides all the information you need to find the best family dentist in town! So, continue reading to find out more.
When Should Be The First Dental Visit Of A Child?
Dental care of children should start right away after their birth. However, the American Dental Association recommends that parents take their children for their first checkup visit after the eruption of their first tooth, and no later than their first birthday. This ensures that the dentist can identify any underlying or developing problems with your child's dentition at an early age and take measures to correct them.
What Is A Children's Dentist Called?
A children's dentist is called a paediatric dentist. Paediatric dentists are specialist dentists, who in addition to being licensed dentists, acquire additional three to four years of clinical training to diagnose and treat problems related to children's teeth, such as the eruption schedule of the milk and permanent teeth, teeth cavities, and gum problems.
Why Should You Choose A Pediatric Dentist For Your Kids?
You might be thinking it would be a good idea to take your kids to a general dentist; it would be a lot cheaper. After all, your child's milk teeth will be ultimately replaced with permanent ones. Unfortunately, this is a very dangerous assumption. But the fact is that whatever oral hygiene habits your child picks up during early age, they will persist lifelong. Paediatric dentists are trained to diagnose and treat dental problems in children up to the age of 16. Therefore, paediatric dentists can keep track of your child's oral health more effectively. Furthermore, taking your child to a paediatric dentist ensures that any problem with your child's teeth is treated early before they cause permanent problems or require expensive treatment later in life.
What Do You Look For In A Pediatric Dentist?
When searching for a paediatric dentist, there are a few things that you must consider. Foremost is their qualification and experience in treating paediatric patients. Secondly, the paediatric dentist you choose must have a stellar reputation and positive patient reviews. Another critical factor is the dental team; always choose a practice for your kids with a friendly and welcoming dental team that takes the fear of dental treatment away from your child. Finally, look for a practice that offers all paediatric dental treatment services under one roof at affordable rates.
Why Do Children Have A Need For Pediatric Dentistry?
A child's milk teeth are as important as their permanent ones. The milk teeth help children learn to eat and speak. Besides, milk teeth serve as placeholders for their permanent counterparts. If a milk tooth falls off prematurely, the neighbouring teeth drift into the empty space and later cause problems with the eruption of the underlying permanent counterpart. Besides, oral health habits learnt by your child remain with them forever. Paediatric dentists are trained to look after all these matters, ensuring that a child enjoys perfect oral health and physical well-being.
What Are The Benefits Of Seeing A Pediatric Dentist Early?
The most significant benefit of early paediatric dental checkups is that the dentist can keep track of, diagnose, and treat any problems that may affect your child's oral or physical health later in life. For example, if the dentist sees that your child is at a higher risk of developing teeth cavities, they may give oral hygiene and dietary instructions to prevent the problem. That is why it is always beneficial to take your child to a paediatric dentist early in life.
What Types Of Treatments Do Kids Dentists Provide?
Paediatric dentists offer a wide range of services. For example, one of the tasks of a paediatric dentist is to observe the child's tooth eruption pattern and take measures if it deviates from the normal. Paediatric dentists also perform regular checkups to look for decayed teeth and gum inflammation. Finally, paediatric dentists also apply preventive fluoride varnishes to reduce the risk of tooth decay and provide oral hygiene and dietary instructions to the children.
How Often Does My Child Need To See The Pediatric Dentist?
The frequency of your child's visit to the paediatric dentist depends on their oral hygiene status. Kids at a greater risk of developing tooth decay are required to visit more frequently – usually after every three to four months. However, children with healthy oral cavities do not need to visit very frequently – annual or biannual checkup visits may be sufficient for them. Your child's dentist will suggest the optimum number of visits required every year.
What Dental Clinic Is Best For Children
The best dental office for kids has a specialist paediatric dentist available and houses state-of-the-art diagnostic and therapeutic equipment necessary for treating dental problems in kids. If you have recently relocated to Hertfordshire and you're looking for a reliable and cost-effective paediatric dentist office, Senova dental should be your first choice. We offer all paediatric dental services at affordable rates and in a comfortable and relaxing environment purposefully built for the treatment of paediatric patients. So, book a free video consultation or appointment with us today and let us take good care of your child's oral health and physical wellbeing.

Latest posts by Dr Jay Padayachy
(see all)