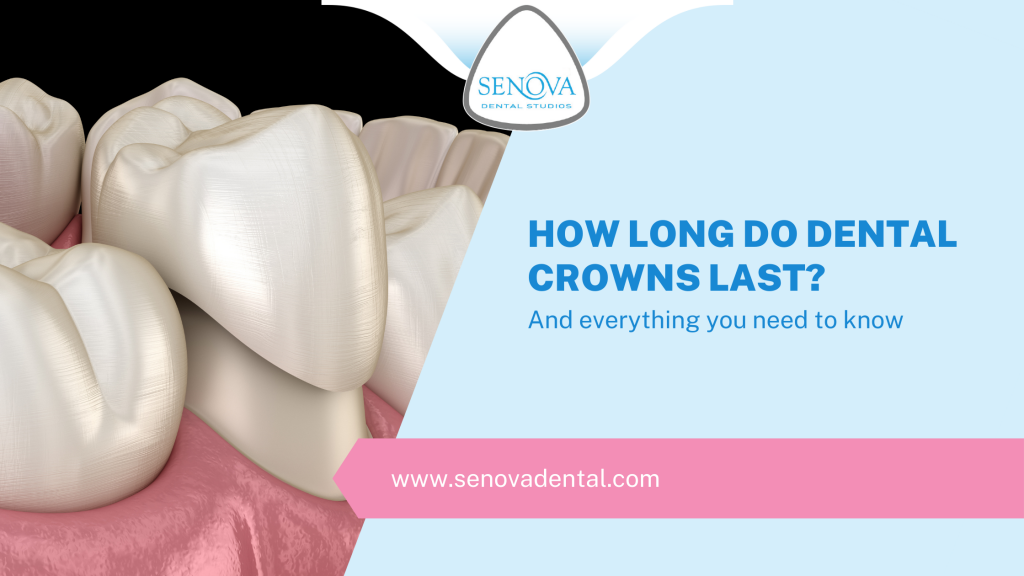 If your dentist has just told you that you need crowns for restoring your chipped and crooked teeth, you might have several questions about this treatment option in your mind. One of the questions commonly asked by patients is about the clinical service life of dental crowns. If you're also seeking an answer to this question or have other unanswered queries about dental crowns, this article is for you. So, continue reading to learn everything you need to know about dental crowns. 
How Long Will A Tooth Crown Last?
The clinical life of a tooth crown depends on various factors:
The type of crown – metal, porcelain fused to metal, or zirconium crowns
The expertise of the dentist and the dental technician
And the level of oral hygiene and dental care maintained by the patient.
However, according to Healthline, dental crowns have a typical lifespan ranging between 5 – 15 years. Like all other dental restorations, you can improve the service life of dental crowns by ensuring optimal oral hygiene and regular dental checkup visits. 
How Long Does A Porcelain Dental Crown Usually Last?
A porcelain crown is made entirely of dental porcelains. Previously, it was thought that porcelain crowns were weaker and less durable than metal or porcelain fused to metal crowns. However, thanks to modern dentistry, porcelain crowns are now as durable as metal crowns while offering the best aesthetics among all crown types.
Can Front Tooth Implants/Crowns Look Natural?
An implant is a screw-shaped fixture inserted into the jawbone, serving as a replacement root. To replace the missing tooth, your dentist will attach a suitable prosthesis over the implant, such as a crown for a single missing tooth. For the front teeth, the best aesthetics are offered by implant-supported, zirconia-based crowns. 
Can A Temporary Crown On A Tooth Last For Six Weeks?
Conventionally, dentists do not attach permanent crowns over implants immediately after insertion. Instead, they wait for about 6 weeks to ensure that the implant anchors itself firmly within the jawbone and offers a solid foundation for the attached crowns. However, this does not mean that you will have to remain without teeth during this period. Instead, your dentist will attach temporary crowns over the newly-inserted implants. These temporary crowns are only for aesthetic purposes and cannot be used for eating. Generally, good-quality temporary crowns can last for up to 6 weeks, just in time for their replacement with permanent crowns. 
Is It Best To Get A Crown Or An Implant?
Dental crowns and implants serve different functions. An implant is used as a replacement tooth, which offers a foundation for the attachment of artificial teeth. On the other hand, a crown is an artificial tooth and is attached to an implant to replace a single missing tooth. Hence, to replace a single missing tooth, you need both an implant and a crown. For replacing more than one tooth with implants, your dentist may use an implant-supported overdenture or bridge.
Are Dental Implants Worth It And Last Forever?
For replacing missing natural teeth, there is no option better than dental implants for replacing missing natural teeth. This is because dental implants are durable, offer natural aesthetics, and are absolutely safe for use within the oral cavity. In addition, according to Healthline, dental implants can last for a lifetime provided they are looked after properly. So, if you are looking for a reliable, durable, and aesthetically pleasing tooth replacement option, you should consider dental implants.
How Long Does A Crown On A Molar Last?
The molars are the back teeth in our mouth that are used for crushing and grinding food. As a result, these teeth receive heavier biting forces than the front ones. Therefore, crowns for restoring molar teeth must possess excellent strength and the ability to withstand heavy chewing forces. When restoring molar teeth with crowns, your dentist performs a thorough clinical and radiographic examination to select the type of crown that best suits your individual dental needs. Typically, crowns on the molar teeth can last for 5 – 15 years.
How Often Do Dental Crowns Fall Out?
Dental crowns are bonded to the teeth using a strong adhesive. Therefore, the chances of dental crowns falling off are very slim. However, in some cases, dental crowns do fall off, either because of the fracture of the underlying tooth or due to the failure of the bonding cement. The good news is that dental crowns that fall off can easily to reattached. If you have a dislodged crown, visit your dentist immediately. They will clean the crown from the inside, apply a fresh adhesive layer, and then reattach the crown. 
Can You Put A Crown On A Decayed Tooth?
Dental crowns rest on the underlying natural teeth. To ensure the long-term survival of the crowns, the supporting tooth must not have any cavities or tooth decay. This is because teeth cavities weaken the tooth and affect the survival rate of the crowns. If you have a decayed tooth, your dentist will first remove the damaged portion and rebuild it with a suitable filling material. Your dentist will only attach a crown over a tooth once the decayed portion has been removed. If you are seeking treatment for your decayed or chipped teeth in Hertfordshire, Senova Dental should be your first choice. At Senova Dental, our experienced and qualified dental team is fully equipped to care for your entire family's dental problems. So, book an appointment with us today and let us give you a healthy and beautiful smile.

Latest posts by Dr Jay Padayachy
(see all)