Gummy Smile Makeovers – What Can Be Done?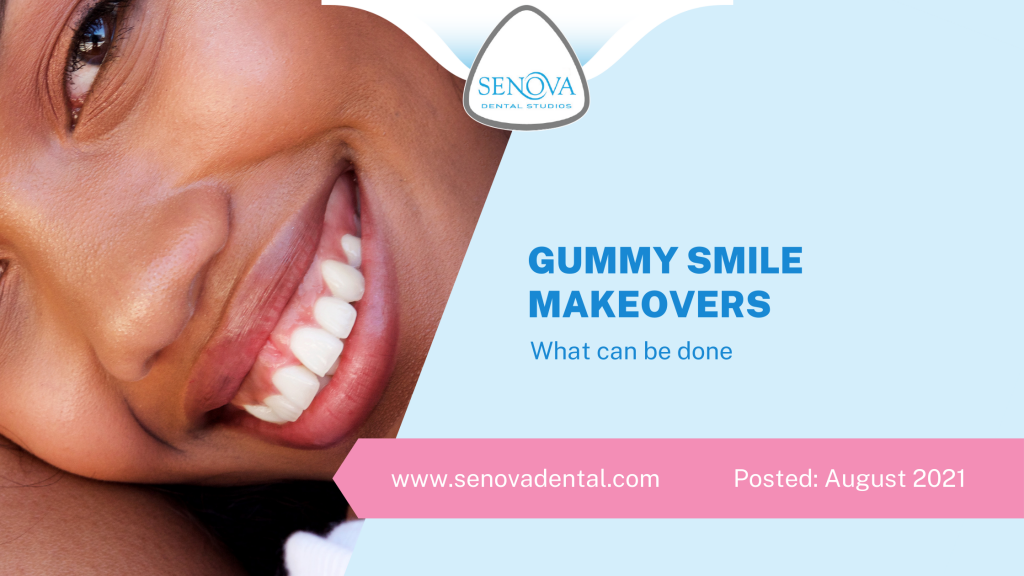 If you look in the mirror and see a smile that makes your teeth look smaller due to excessive gum exposure, you're not alone. Many people throughout the world feel self-conscious due to their "gummy smiles". Besides the cosmetic concerns, a gummy smile may also indicate underlying orthodontic problems, which should also be addressed to ensure optimal oral health. The good news is that gummy smiles can be fixed! This article explains various options you can utilise to get rid of a smile with excessive gum tissue exposure.
What Is A Gummy Smile?
A gummy smile is a condition where there is too much exposure of the gum tissues relative to the teeth when one opens their mouth for speaking or smiling. Also known medically as excessive gingival display, this condition constitutes an aesthetic problem, causing the affected people to shy away from speaking or smiling in public. According to the International Journal of Surgery Case Reports, a smile that results in more than 2mm of gum tissue exposure is referred to as a gummy smile.
Is Smile Makeover Beneficial?
A smile makeover treatment is a cosmetic procedure where your dentist will perform various cosmetic and restorative dental procedures to fix flawed smiles. With smile makeovers, dentists can fix even the most challenging cosmetic problems like teeth gaps, teeth stains, fractured teeth, and gummy smiles. So, if you wish to get rid of your cosmetic facial defects and enjoy a healthy smile, then a cosmetic smile makeover will prove highly beneficial in achieving your goals.
What Are The Gummy Smile Treatment Options?
When it comes to fixing a gummy smile, there are several options available. Your dentist will advise regarding a choice that best suits your dental needs. Currently, the three most commonly available gummy smile treatment options include:
Gum Recontouring
According to the American Academy of Periodontology, gum recontouring, also called crown lengthening, is a procedure in which your dentist or periodontist will surgically remove excessive gum tissue. Gum recontouring is mainly done when the teeth appear shorter due to the overgrowth of the gums.
Botulinum Toxin (Botox) Injection
While many people think that botox injections are only helpful in removing facial wrinkles and getting rid of sagging skin, they can also fix a gummy smile. Botox injections are typically beneficial in gummy smile cases where the muscles are hyperactive.
Orthodontic Treatment or Surgery
Sometimes, gummy smiles can arise due to underlying orthodontic problems, such as the excessive downward growth of the upper jaws or the excessively downward positioning of the upper teeth. In both these cases, the gums become more visible whenever the mouth is opened, leading to a gummy smile.
How Is Botox Used To Treat A Gummy Smile?
A Botox injection results in the contraction of the lips, thereby reducing the "gummy appearance". However, care must be undertaken not over-inject the botulinum toxin, as over contraction of the lips may have an opposite effect than the desired outcome. The results of Botox treatment usually last for about 3-6 months and need to be repeated every 6 months to 1 year.
How To Get Rid Of My Gummy Smile Without Surgery?
Not all cases of gummy smiles need surgical treatment. There are other non-surgical options available as well. The most common non-invasive treatment for gummy smiles is a Botox injection. In other cases, if the problem exists due to excessive downward positioning of the upper teeth, it may be fixed with braces.
Is Cosmetic Dentistry Helpful In Smile Designing?
No matter how severe your cosmetic dental problem is, it can be fixed with cosmetic dental treatment. For example, if you have crooked, stained, or chipped teeth, your dentist will restore them with composite bonding or aesthetically pleasing porcelain veneers or crowns. Similarly, extrinsic teeth stains can also be fixed for professional teeth whitening. Likewise, a gummy smile can be restored with gum contouring or a Botox injection. 
What Is The Process For Smile Design?
During a smile design, your dentist will first thoroughly examine your teeth and gums to identify all the underlying cosmetic and functional problems. In light of these issues, your dentist will then prepare a digital smile design using special software. This smile design details all the procedures performed to restore your facial aesthetics and optimise dental functions. The smile design allows you to visualise how your smile will look after the treatment. Therefore, you can suggest changes to get the smile of your liking, even before your treatment has started. Dentists mostly use 3D printing technology to prepare veneers and crowns to restore damaged teeth in smile design.
Do Veneers Make Teeth Look Bigger?
Veneers are thin shells attached to the front teeth surfaces to restore cosmetic and restorative tooth defects. To ensure that the veneers do not protrude from the teeth or look excessively large, your dentist will remove a thin layer of tooth enamel. In this way, the veneers become perfectly blended with your teeth and don't appear oversized. Don't let your cosmetic tooth defects affect your self-confidence and smile. Instead, let Senova Dental help you get the best out of your smile and personality. We take pride in having one of the highest qualified dentists in town, and a well-equipped dental office, to take care of all your dental problems. So, book a virtual consultation with us today and take your first step towards your dream smile.

Latest posts by Dr Jay Padayachy
(see all)