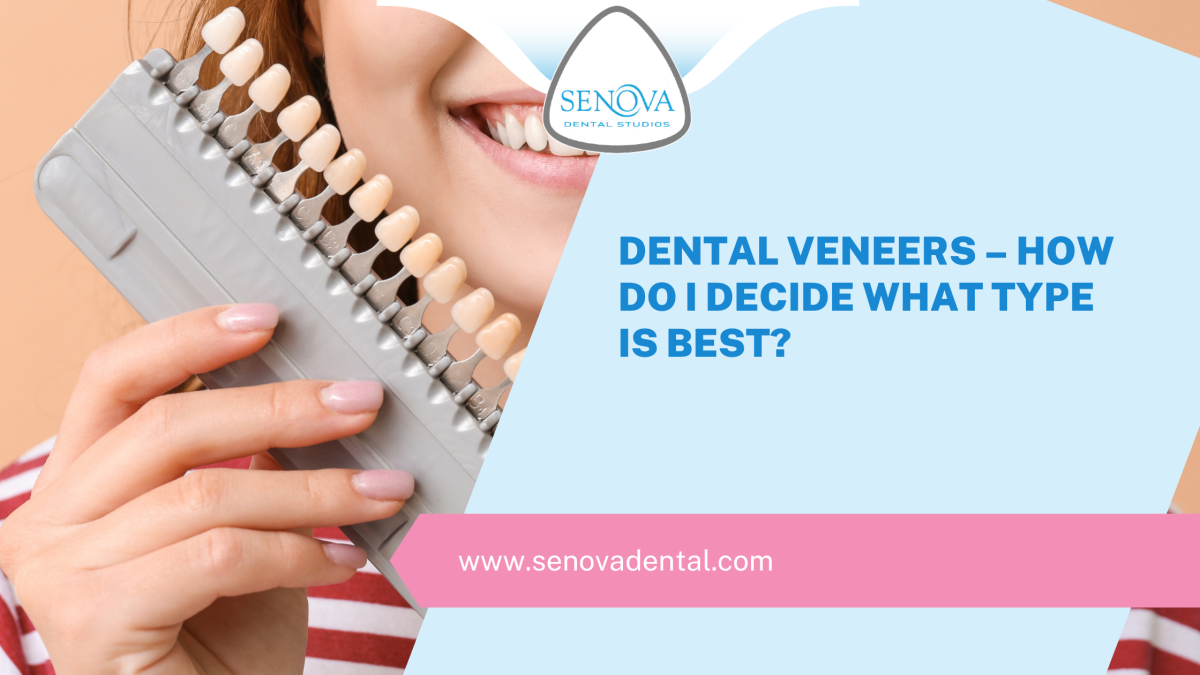 Cosmetic dentistry has come a long way over the years. Today, no matter how complex or complicated an aesthetic issue one is facing, it can be solved with cosmetic dental treatment. From teeth stains to crooked or misaligned teeth, your cosmetic dentist has a solution for all your cosmetic concerns. And one of the most effective and time-tested treatment options that dentists use to transform blemished smiles is dental veneers. 
If you're dazzled by the breathtaking beauty and smile of your favourite celebrities, it's probably because of dental veneers. "But, there are different types of veneers available. How can I know which type is the most suitable for me?" You may ask. Don't worry; we have got you covered! In this blog, we will discuss everything you need to know about dental veneers and how you can enjoy a lasting and healthy smile with them. So, continue reading to find out more about veneers.
What Should You Know Before Getting Veneers?
According to the British Academy of Cosmetic Dentistry, veneers are ultra-thin shells of resins or porcelain bonded directly to the front surfaces of the teeth. One of the best features of dental veneers is that they are tooth-coloured. Therefore, they will precisely match the shade and colour of your natural teeth, blending in perfectly and becoming virtually indistinguishable. So, if you want a complete smile makeover, veneers are the best option. 
What Are Dental Veneers, And Why Are They So Important?
The American Dental Association defines veneers as thin, custom-made shells of porcelain or resins that are applied to the front surfaces of the teeth to restore their structure and aesthetics. Dental veneers have become extremely popular due to their ability to blend in with neighbouring teeth. In fact, virtually all of the smile makeover procedures performed worldwide involve restoring damaged teeth with veneers. 
Which Type Of Veneers Are Best?
Dentists use different types of veneers to rejuvenate blemished smiles. For example, the two commonly used veneers are made of porcelain and composite resins. Similarly, there are temporary veneers made of acrylic. These veneers are bonded to the prepared teeth while the permanent veneers are being fabricated in the laboratory, and their function is to temporarily restore the aesthetics. Your dentist will recommend a suitable veneer type after a thorough clinical examination. 
Are Veneers Harmful To Teeth?
It is a prevalent notion that the teeth get damaged after getting veneers. Similarly, many people think that the teeth tend to become sensitive after veneers are bonded to them. However, the fact is that properly designed and bonded veneers do not damage one's natural teeth. In fact, the amount of tooth structure removed for the bonding of the veneers is so little that it will not make the teeth sensitive or cavity-prone. However, one should always visit an experienced and qualified dentist to get veneers, as novice dentists may do more harm than good. 
Are Porcelain Veneers Reversible?
To place veneers, your dentist must remove a thin layer of the natural tooth structure. This is done to create space for bonding the veneers. Therefore, the process of veneer bonding is not removable. However, if a veneer gets dislodged, it might be possible for your dentist to get it re-attached to the tooth using adhesive. 
Do Veneers Act As A Protective Covering Around The Teeth?
Yes, porcelain veneers also serve as protecting coverings. In addition to improving one's facial aesthetics, carefully designed veneers prevent teeth from secondary decay, sensitivity, and gum infection. On the other hand, poorly-designed veneers can promote secondary tooth decay and cause gum disease.  
What Are The Main Reasons That People Get Dental Veneers?
The main reason why people get veneers is for improvement in their smiles and appearance. People with blemished or flawed smiles can feel uncomfortable and refrain from smiling or talking in public. Therefore, many people get smile makeovers with veneers to rejuvenate their smiles and boost their self-confidence.
Should I Get Dental Veneers Or Dental Bonding?
Dental bonding is a procedure in which your dentist will place a tooth-coloured filing over the damaged portion of your teeth to restore their structure and aesthetics. So, bonding is a direct restorative procedure, implying that it is completed at the dental chairside. On the other hand, veneers are prepared in the dental laboratory under controlled conditions. Therefore, they have superior aesthetics and durability than bonding. If you want the best aesthetics, you should go with veneers. However, if you have a large-sized cavity in one of your back teeth, you should consider cosmetic bonding. 
What Are The Reasons Why Dental Veneers Are Worth It?
The most significant advantage of dental veneers is their excellent aesthetics. Porcelain veneers blend in perfectly with the neighbouring teeth and become virtually indistinguishable. This way, they can optimally restore one's facial aesthetics and boost self-esteem. 
What Are The Pros And Cons Of Dental Veneers?
The pros of dental veneers are non-invasiveness, excellent aesthetics and limited potential for repair in case of fracture. On the other hand, the drawbacks of veneers are their inability to be bleached and their high cost.  
How Can You Tell If Someone Is Wearing Veneers?
As mentioned earlier, porcelain veneers are usually indistinguishable from the neighbouring natural teeth. They only become visible when they get stained over time. So, if someone is wearing veneers made by an experienced cosmetic dentist, they will be very hard to detect. 
If you're considering getting veneers in Watford, Senova Dental should be your first choice. We offer the highest quality cosmetic dental services in town at affordable rates. So, what's stopping you? Book an appointment today and begin your journey towards a lasting, attractive, healthy smile with veneers.  

Latest posts by Dr Jay Padayachy
(see all)