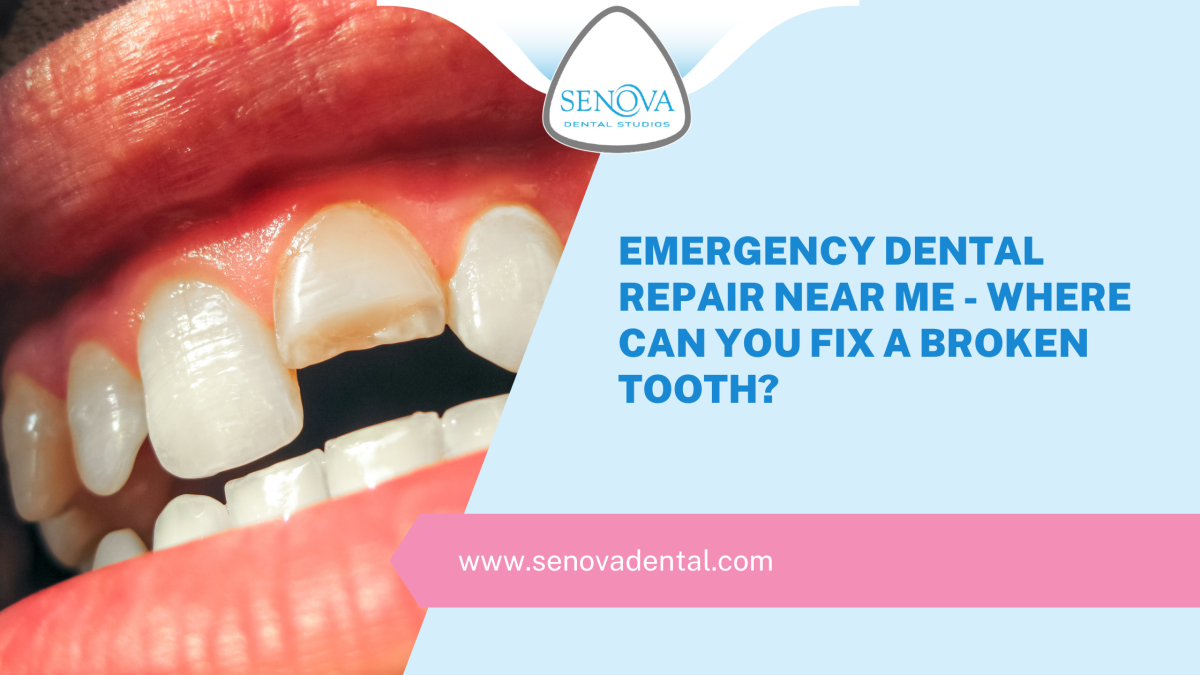 Imagine this scenario; you are enjoying a nice, delicious meal at a restaurant on a Saturday morning, and suddenly, you bite on a piece of bone. You hear a cracking sound, and the next moment, you realise you have broken one of your teeth.
So, what will you do in this situation? First things first, don't panic! Next, there are specific steps that you need to take right away to prevent further damage to the broken or chipped tooth. If you want to learn how to get a chipped or fractured tooth restored, this blog is for you. So, read it till the end to know exactly what to do if you or a loved one has a broken tooth.
How To Determine If You Need Emergency Dental Work?
According to the National Health Service, a dental emergency is any potentially life-threatening condition that requires immediate treatment to avoid long-term dental or medical complications. For example, common dental emergencies are
Broken or chipped tooth
Severe toothache
Dental abscess with difficulty in breathing
Uncontrolled bleeding
I Just Broke My Tooth. What Should I Do?
As mentioned earlier, one mustn't panic is such situations. Try to locate the broken tooth piece and preserve it in a water-filled jar. You should bring it along when visiting your dentist. Next, rinse your mouth to remove debris from tooth chips. If the affected tooth has become sensitive after the damage, it indicates that the underlying dental tissue has been exposed. You can place utility wax over the tooth to prevent pain. Alternatively, you may chew sugar-free gum and place it over the affected tooth. After undertaking these measures, you should book an emergency appointment with your dentist to save the affected tooth.
How To Fix A Broken Tooth?
When you visit your dentist with a broken tooth, they will perform a detailed clinical examination to assess the extent of the damage. They will also look at the x-ray images of the affected tooth to prepare a customised treatment plan. If a small piece of the tooth is chipped, your dentist will restore it with a tooth-coloured bonded restoration. On the other hand, if the damage is extensive, they will first restore the tooth and place a crown over it for reinforcement. Finally, if they observe that the underlying dental tissues have become exposed and the pulp tissue has become inflamed, they will perform root canal treatment before restoring the tooth.
What Are My Options In Repairing Badly Chipped Front Teeth?
Several options are available to fix a front chipped or broken tooth:
Cosmetic Bonding – if the broken tooth piece is small, your dentist may consider restoring the lost portion with tooth-coloured bonded filings. Bonded restorations are sufficiently strong and durable. More importantly, their shade can be matched precisely with the neighbouring teeth. As a result, they can completely restore one's facial aesthetics and smile.
Veneers – sometimes, dentists restore chipped with composite filings, followed by the placement on porcelain veneers to restore facial aesthetics.
Porcelain Crowns – for teeth that have become extensively damaged, dentists restore them with filling materials and place porcelain crowns over them to reinforce them. Dental crowns strengthen broken teeth and also restore their aesthetics.
Is It Safe To Fix A Broken Tooth Yourself?
Dental professionals advise against attempting to fix one's broken teeth by themselves. Why? Because broken tooth pieces cannot be re-attached to the teeth in many cases. Only your dentist can attempt to re-attach the broken tooth piece using adhesive. Trying to fix one's broken tooth using household adhesives may cause more harm than good. Therefore, someone with a chipped tooth should visit their dentist to get it fixed.
How To Find A 24-Hour Dentist Or An Emergency Dentist?
Dental emergencies don't have any schedule or timetable; they can happen to anyone, anywhere, and anytime. So, what should one do if they have a broken tooth or facial injury outside of business hours or at weekends when most dental practices are closed? Here's what you should do; you should have an emergency contact number from your dentist so that you can contact them in case of an emergency outside of working hours. However, if you are out of town, you can search the internet for dental practices that offer round-the-clock dental services. If you cannot find any emergency dentist in your area, you can head to the nearest hospital for treatment.
How To Find An Emergency Dentist Near Me?
As mentioned, you can search the internet for local dental practices offering emergency services. You may also ask your family dentist if they provide emergency dental services outside of working hours and weekends. Besides, hospitals can sometimes provide emergency dental treatment.
How Can An Emergency Dentist Help You?
An emergency dentist is trained to treat potentially life-threatening situations and minimise damage to one's teeth and oral health in case of an injury. For example, if someone has an avulsed tooth, your dentist will put it back into its sockets if you visit them without delay. Similarly, if someone has had a dental injury causing uncontrolled bleeding, their dentist will take measures to control it.
How Much Is An Emergency Dental Appointment?
Different dental practices charge different fees for emergency services. Furthermore, the charges also depend on the type of injury or emergency. For example, managing a chipped or broken tooth may cost you between £100 – 150.
Are you looking for an emergency dentist in Watford? Senora dental is your best option. We offer all types of dental services – including emergency treatment – under one roof. So, book an appointment with us today and let us take care of your entire family's dental health and smiles.

Latest posts by Dr Jay Padayachy
(see all)