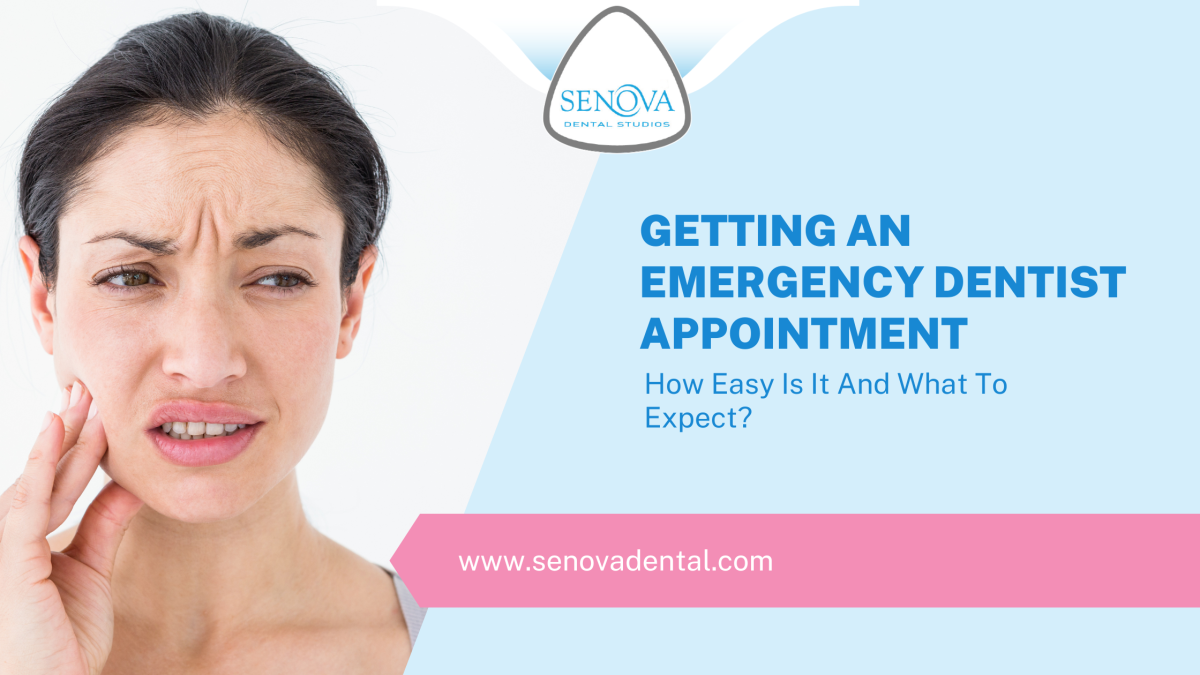 Dental emergencies can happen anytime, anywhere, and to anyone – we cannot prevent them entirely. But what is more important is learning what to do in the case of a dental emergency. For example, one of the first things one should do when they, or one of their  loved ones, is having a dental emergency is to call their dentist right away and book an emergency appointment. Unfortunately, many people are unaware of what to do in the case of an emergency and, more importantly, the procedure to book an emergency dental appointment. 
But no need to worry! This article will explain everything you need to know about dental emergencies, their management, and how to book an emergency dentist appointment. So, read on to learn more. 
What Is A Dental Emergency And How To Deal With It?
According to the American Dental Association, a dental emergency is any life-threatening situation that must be treated immediately. Dental emergencies involve stopping uncontrolled bleeding, treating severe infections, or alleviating unbearable dental pain.
The next question is how to deal with a dental emergency. So, if you feel that you or a loved is having a dental emergency, you should first try to control the damage. For example, if an injury on the face causes uncontrolled bleeding, you should apply a clean gauze or cloth to stop it. Alternatively, try taking any pain medication if you have severe, uncontrolled pain.
The next step is to call your dentist immediately, explain the situation and ask for guidance. Depending on the citation, your dentist may ask you to come in immediately. However, if it is not possible for you to visit your dentist (if you're out of town or far away), you should see any nearby dental office. If you cannot find any dental clinic nearby, you can also visit any hospital emergency for treatment. However, time is of the essence in the case of dental emergencies. So, every effort must be made to see a dentist without delay. 
How Does Emergency Dentistry Work?
Emergency dental treatment involves treating potentially life-threatening situations. For example, if someone has uncontrolled facial bleeding, your dentist will take measures to control it. Also, if someone is suffering from a severe dental infection and facial swelling that makes breathing difficult, your dentist will treat the infection to restore their oral and physical health. So, emergency dentistry involves the management of potentially life-threatening situations. 
What Can I Expect During A Dental Checkup?
Your dentist will thoroughly examine your teeth, gums, jawbone, and related facial structures during a routine dental examination. This examination is done to identify any underlying dental issues and treat them timely, before they cause permanent damage. For example, if your dentist finds plaque and tartar deposits on your teeth, a precursor to periodontal disease and even tooth loss, they will perform professional teeth cleaning to remove them. Furthermore, if they identify any teeth cavities on x-rays, they will restore the affected teeth. In addition, another important part of dental checkups is cancer screening; it involves checking for non-healing facial/head/neck swellings, and lymph nodes that may indicate a potential malignancy. If swelling is suspected of cancerous, a biopsy is taken and sent to the laboratory for confirmation. 
Do Emergency Rooms In Hospital Have Dentists?
Most tertiary care hospitals have dentists or oral and maxillofacial surgeons available on-call for treating dental injuries or emergencies. Even if a dentist is unavailable, doctors are trained to treat facial injuries and infections and to stop uncontrolled bleeding. So, no need to worry; if you walk into an A&E during a dental emergency, you will be well taken care of. 
How Long Does It Take To Get A Dental Appointment?
The time required to get a dentist's appointment depends on various factors. For example, it depends on whether you seek an appointment with a private or NHS dentist. Typically, there is a long waiting list for seeing an NHS dentist. On the other hand, it is considerably easier to see a private dentist. In most cases, you can get an appointment on the same day. Another factor is the workload or the dentist; if the dentist already has many appointments, you may have to wait longer. 
In An Emergency, Can A Dentist Be Helpful?
Dentists are trained in dental school to treat dental emergencies, such as an avulsed tooth, uncontrolled bleeding, and severe dental infections. So, if you have a dental emergency and you cannot find an emergency dentist nearby, it is safe to visit any dental office that is open at that time. 
What Do You Expect From Your Dental Clinic?
A dental clinic provides a range of services, depending upon the experience and specialisation of the dentist. For example, a general dentist will provide vital dental services under one roof, such as teeth cleanings, dental fillings, and root canals. On the other hand, specialist dentists only provide services relating to their speciality. Whereas, an orthodontist will most likely provide only services for straightening crooked teeth. 
Why Are Dentist Appointments So Difficult To Get?
Dentists are busy professionals. They have to see many patients daily and provide a wide range of services. Furthermore, each patient appointment may take between 30 minutes to 2 hours, depending on the type of treatment needed. So that is why, dentists have a long waiting list, especially NHS dentists. But, if you wish to see a dentist immediately, you may book an appointment with a private dentist, which is easier and quicker.
If you are looking for emergency dental help in Watford make an appointment to see one of our helpful team.

Latest posts by Dr Jay Padayachy
(see all)