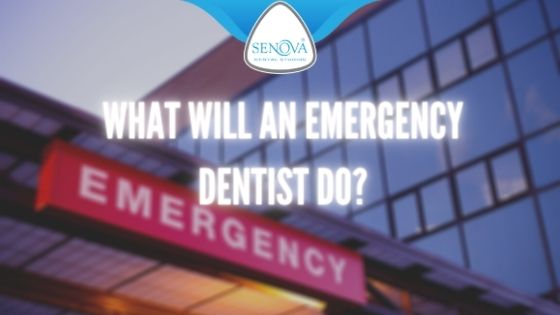 When having a dental emergency, your first thought would be going to the hospital. The only problem is that the A&E staff will only be able to relieve the dental emergency, not fix it. Going first to A&E is sufficient if, for some reason, your dentist's practice is closed.
Usually, though, a reputable dentist will have an emergency number at your disposal, so you can always call them, and they can give you some guidance on what to do. This kind of service is not well-known, because most people visit the dentist once every six months or even once a year.
Yet what does an emergency dentist do? Can you visit an emergency dentist during lockdown? Let's take a closer look at these questions.
Functions Of An Emergency Dentist
An emergency dentist is an experienced oral healthcare professional. Contrary to a general dentist, where you first must find a free slot on their schedule, an emergency dentist is standing by and will treat the patient as soon as possible. They are capable of giving a prompt diagnosis of the dental emergency, and being able to act accordingly.
What Are Some Dental Emergencies?
Knocked-out Tooth:  Make sure to place the tooth in a clean container with saliva or milk. Please bring it to the emergency dentist; they will be able to re-implant the tooth.
Chipped or cracked tooth: Depending on where the chipped tooth is located, an emergency dentist may repair it with a filling or perform a procedure called bonding.
Severe dental pain of unknown origin that won't go away: As mentioned before, an emergency dentist will be able to find the problem promptly even if you are unsure what the problem is.
A tooth in severe pain: Since this is a common problem that may lead to serious health issues, it is best to go into more detail to know if you should go to an emergency dentist.
When To Go To The Dentist For Tooth Pain
If the problem is not severe then you can schedule an appointment with your regular dentist, but if the pain is unbearable, immediately contact an emergency dentist. Tooth pain, especially if it is severe, should always be treated as quickly as possible, as having tooth pain can mean the beginning of tooth decay or even an infection that can cause an abscess.
There are three different kinds of abscesses: periapical (infection in the inner tooth), periodontal (infection in your gums), and gingival (infection in your gum caused by a food particle or broken tooth).
Since we are talking about tooth pain, let us look into the stages of a tooth abscess.
Tooth Abscess Stages
There are a few stages when it comes to an abscess, depending on the severity some of the steps may be worse than others. We will briefly look over each stage.
Enamel Decay
When plaque begins to accumulate on the surface of the tooth, it will release an acid which will erode the tooth enamel (outermost covering of your teeth). Once this happens, a cavity will begin to form.
Dentin Decay
If the cavity is left unchecked, then bacteria will begin to eat past the enamel and into the next layer, the dentin.
Dental Abscess
Once the dentin layer is gone, nothing is protecting the inner tooth. Which means the bacteria will begin to infect the nerves found in our inner tooth. Then your immune system will start to fight the infection, causing pus to form around the affected area.
If the abscess bursts on its own, you should follow some steps carefully to avoid any further infection.
What To Do If A Dental Abscess Bursts On Its Own
Don't think that you are in the clear if an abscess burst, you still will require dental care from an emergency dentist since they will be able to drain the pus and remove the infection, avoiding more pus to form.
If it were to happen, rinse your mouth with warm water. If you want you can add a teaspoon of salt, as it can help to kill the bacteria that was released. Afterwards, grab a pack of ice wrapped in a rag and place it on the skin of the affected area.
Like aforementioned, do not think that you are out of trouble; the infection is still there and will become worse. Call an emergency dentist immediately so they can begin treatment in the affected area.
If you do have an abscess then you most likely also have some symptoms that come with it. These symptoms can vary in intensity, but they are the most common ones.
Symptoms Of Tooth Infection Spreading To Body
Some symptoms of tooth infection are fever, swelling in the affected area, dehydration, and perhaps a nasty taste in your mouth if the abscess has burst. If this is the case, then do not hesitate in contacting an emergency dentist, as they can better diagnose you and give you the immediate treatment you need.
Unchecked, severe tooth pain that is caused by an infection can lead to life-threatening health problems. For example, the infection can spread into your bloodstream, skin or even the bone near your infected tooth.
Once again, do not hesitate in contacting an emergency dentist if you are experiencing any of the symptoms above. As you can see, the sooner an abscess can be fixed, the better for your health.
What happens if you must see an emergency dentist during the pandemic, and is it safe?
Can You See An Emergency Dentist During Covid 19?
Seeing an emergency dentist during coronavirus may seem impossible but that isn't the case.
Following governmental and health expert guidance, dentist offices have accommodated their centres and staff with the proper measures and tools to combat COVID-19. Some actions that have been taking are as follows:
Protective equipment for all of the team (face masks, face shields and more)
Those who enter must sanitise their hands with alcohol disinfectant.
Check the temperature of those who enter.
The rooms in the office will be sterilised before being used (and after it is used)
You can feel relieved that every possible measure that can be done to ensure your health safety has been followed.
Don't Waste Time
As we have discussed, a dental emergency is a time-sensitive matter that requires an emergency dentist to be able to assess and treat thoroughly. Next time you have a dental emergency, visit our centre. If you are unsure, feel free to contact us, and we can give you the proper advice on what to do.

Latest posts by Dr Jay Padayachy
(see all)