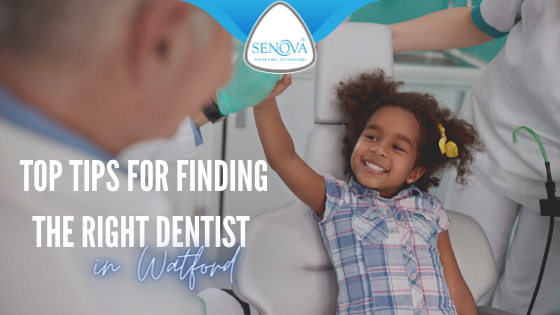 We all know that visiting the dentist regularly is important for our oral and overall health. But the truth is that 27% of British adults only visit the dentist when they have an urgent dental problem.
It's not a cliche to say that prevention is better than cure. Deciding on the right dentist is a really important choice for your family's ongoing health and well-being. There can also be financial implications too.
If you're looking for a dentist in Watford, we've compiled some helpful tips for finding the right dentist. Read on to find out more.
How to Find the Best Dentist Near Me
You might be looking for a dentist if you've just moved to a new area, or you're unhappy with your current dentist. Or perhaps you need urgent help, but you've never got round to registering with a dental practice for regular check-ups. But often there is a lot of choice out there. So where should you start?
It might sound pretty obvious, but the location should be one of your first considerations. Is it convenient to your home or workplace? Can you get there by public transport, or is there enough parking if you drive? How would you travel there in an emergency? Is it fully accessible if you have any disabilities?
It's also important to make sure the opening hours fit in with your schedule. Would you want to visit before or after work, or during your lunch hour? If so, you need to check whether early morning or evening appointments are a possibility and if there are lunchtime slots available.
High-Quality Dentistry
It's important to think about the kind of dental services you're likely to require. You should find out what the procedure is for emergency treatment. Does the dentist you're considering have an internal arrangement with colleagues to provide emergency cover, or would they refer you elsewhere? How would follow-up care be arranged?
There are multiple sub-specialities within dentistry. If you have special requirements you should ensure that your dentist is qualified to meet your needs. If you have young children you may wish to look for a qualified paediatric dentist, or if you have multiple crowns, bridges or implants which need looking after, you may look for someone specialising in restorative dentistry.
Preventative dentistry is also extremely important, particularly for children and young people. You might want to find out how what approach your dentist takes in this area.
You should also find out the types of anaesthesia the dentist is qualified to administer and what their approach is to pain relief and sedation during procedures. It's important to feel comfortable in the chair. This is particularly relevant if you have a fear of the dentist, which is very common.
Signs You Have a Good Dentist
It's worth checking that the dentist you are considering has a valid licence to practice. They should also have a business permit to operate in the area. You may also wish to check that the dentist and their staff do not have criminal records.
Scams are rare, but they do happen. So it makes sense to do some due diligence to protect yourself and your family.
You may also want to ask about continuing professional development. Dentists should stay up to date with the latest developments in dental care to be able to offer the best treatment to their patients. Some dentists display certificates of their latest training in the reception area of their practices or provide this information on their websites. You should look for a dental practice with a well-qualified and highly experienced team.
Other signs of a good dentist will be apparent when you visit their office for the first time. Is it tidy and organised? Are the staff kind, helpful and courteous? Is the equipment clean and well-maintained? Are the staff wearing appropriate protective gear? All of these things are key indicators of a good dentist.
What About the Money?
You shouldn't feel embarrassed to ask about money when making enquiries about dentists. It's sensible to ask for a list of the costs of common procedures, such as a routine check-up and cleaning, fillings and full mouth x-rays. You need to make sure that you choose a provider who is affordable for you.
If you have dental insurance, you'll want to ensure that your dentist can accommodate this. You will need to check that the dentist accepts your insurance plan and can assist with paperwork as necessary.
It's also a good idea to find out about payment options. You don't want to be caught out having to pay cash for expensive treatments. You should find out when payment is due after treatments are performed.
Many dental practices offer a variety of payment plans. where a monthly payment covers a range of services. This includes the all-important regular six-monthly check-up, which is so vital for long-term dental health.
Basic packages may include x-rays, regular screening for oral cancer and discounts for other family members. Many practices also offer similar payment plans for children.
When discussing any treatment which is required, dentists should make costs estimates clear up-front and let you know what your payment options are. This should also apply to emergency dental care.
Some practices offer special offers to new patients. At Senova Dental Studios, you can request a free 15-minute video consultation or download a voucher to cover the cost of your initial appointment. Many practices also offer loyalty bonuses and referral incentives for long-term patients.
A final thing that it's worth checking is the cancellation policy for your dentist. Many practices require a minimum of 24-48 hours notice for cancellations and charge a fee if this timescale is not adhered to. It's best to be informed about these potential charges in advance so you can manage your diary accordingly.
Recommended Dentists in Watford
It's a good idea to ask friends, family or co-workers for recommendations when you're choosing a dentist. The more years someone has been a patient of a particular dentist, the more reliable their recommendation is.
If you have special oral health needs, it may be helpful to speak to someone who also has a complex dental history. Someone who has only ever had routine check-ups and cleans may not be able to give you a recommendation for a dentist who has successfully fitted dental implants or conducted bone grafts, for example.
You could also ask your family doctor or pharmacist for a recommendation. People in the healthcare field tend to know each other, so it's likely they will have a professional associate they would be happy to recommend to you.
If you're moving to a new area, you may not have any connections to ask for recommendations. In this case, you could ask your existing dentist for a recommendation. Dentists often work in associations and know other dentists in various parts of the country so they may be able to provide you with some advice.
Finally, you can seek out reviews for dentists you are considering. Detailed patient feedback is one of the most valuable indicators of high-quality dentistry.
You can search the dentist's own websites for testimonials. You can also look for feedback on platforms such as Google and Yelp. Look for in-depth reviews, rather than simple "good" or "bad" ratings. Dental care is complex and the more detail you can find, the better.
Most dental practices are now active on social media too. You can check out their Facebook page and see if there are any patient reviews there, or see if they have a Twitter page with regular news and updates.
Your First Visit to a New Dentist
On your first visit to a dentist, you should feel comfortable to discuss your oral health needs, concerns and goals. It's helpful to prepare a list of questions in advance and bring your previous records with you if possible.
This first appointment is the time to check that you feel comfortable and relaxed at your new dental practice. Does the dentist's philosophy on dental care and prevention match your own? Can you see yourself forming a long-term therapeutic relationship with this new dentist? Now is the time to make this decision.
Visiting a Dentist in Watford
The tips in this article should now have provided you with all the information you need to choose a dentist in Watford. It's a significant decision for yourself and your family, so you should give it careful care and consideration.
Here at Senova Dental Studios, we would love to welcome you as a new patient. Download a voucher now for your free initial consultation!

Latest posts by Dr Jay Padayachy
(see all)